The Winner of Last weeks Challenge is...............


Flati


Please can you contact Donna,
With your contact Details of where to send the prize too,
If we do not hear from you within 3 days, another winner will be chosen.

This week Crafty krafts ( Donna ) is Sponsoring Sarah Kay,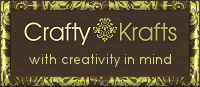 www.craftykrafts.co.uk

1 Lucky person will get the chance to win the below goodies,
You work must be in and uploaded onto the blog by 27th Sep (Saturday) 8pm (UK Time)
only people who enter in before the deadline will be considered for prizes.


Prize Value over £10
1 Wooden Hampton Art Stamp
1 Bottle of Snow Writer

* Week 12*

Creative CD Cases



This week we would like you to use CD Cases in your work,
Use them however you wish to.


Please remember your work must include at least one Sarah Kay image.




We hope you all have fun as much as we did!